Glenn is a fisherman on Sundrop Island.
Appearance
Edit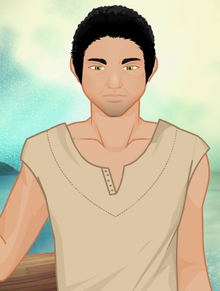 Glenn wears a tan tunic with very short sleeves and grey pants that button in front. He has short, black, curly hair and green eyes.
Personality
Edit
Glen has a hard working, no-nonsense personality. However, he is still kindhearted.
In Chapter 2, Glenn tells Aida to collect shrimp from his shrimping nets, and pays her for her help.
Glenn has a two-year-old child.